---
Die Pilates Mat Class findet in angenehmen, kleinen Gruppen bis maximal 7 Personen statt. Es ist nicht nur für Pilates Einsteiger geeignet, sondern auch für alle, die schon mit Pilates in Berührung kamen, "Teaser", "Rolling-Like-a-Ball" und "Hundert" sehr wohl kennen. Du hast die Möglichkeit zwischen Beginner-, Intermediate- und Advanced-Kursen zu wählen. Bitte beachte, dass zunächst die Grundsätze des Pilates in mind. 10 Stunden gelegt sein sollten, bevor Du an einer Mittelstufenklasse teilnehmen kannst. Um an einem fortgeschrittenen Kurs teilzunehmen, solltest Du mind. 20 Stunden die Mittelklasse besucht haben. Deine Mattentrainer beraten Dich gerne individuell, welches Niveau das für Dich Effektivste darstellt. 
---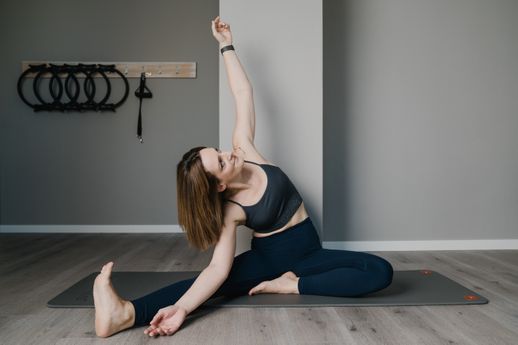 Mindful Pilates ist eine Klasse, in der wir uns langsamer bewegen. Wir vertiefen unsere Dehnung und werden uns bewusst,  dass jeder Muskel in Harmonie arbeitet, um seine Grenzen zu erweitern. Es ist eine Klasse für Anfänger. Alle Niveaus sind willkommen, um ihre Dehnung durch Stretching zu vertiefen. 
It is a class that we move slower and be aware that every muscles work in harmony in their own limits to expand their limits. It is a beginner level class. All levels are welcome to deepen their strength through the stretching.
---
Back to basics ist eine Klassen, in der wir auf die Grundlagen von Pilates zurück greifen, um eine solide Grundlage zu schaffen. Das ist die Klasse, die uns zu dem fortgeschrittenen Level führt.
It is a class where we return the fundamentals of Pilates to build a solid foundation. That is the class that leads us to the advanced.
---
In dieser Klasse sollen Reformerübungen auf der Matte durchgeführt werden, 
denn hier kommen sie eigentlich her.
This class is designed to perform reformer exercises on the mat, 
because this is where they actually came from.
---
Dies ist die Klasse, die wir aufwecken und verlängern werden. Beim Theraband-Kurs dreht sich alles um Spaß und Entspannung. Macht Euch keine Sorgen, wenn das Theraband fehlt, eine Strumpfhose oder Leggings funktionieren auch.
This is the class that we will wake up and lengthen. Theraband class is all about fun and relaxation. Don't worry if you don't have the theraband, bring a pantyhose, that will work too:) ..
---
Dieser Kurs ist speziell auf die Kernmuskulatur und die Dehnung des Körpers ausgerichtet.Es ist eine starke und moderate Klasse in Einem.
This class is designed to work especially for the core muscles and stretching the body.
 It is a strong and moderate class all in once.
---